while the world sets their eyes in the middle east, there's different war silently being prepared by 1.3 billion people: the chinese new year.
words are vague to describe the insanity that this country goes through during the coming week: tons of explosives are going to be lit in the whole country. the war is going to last several days and there's no bad time for yet another blast: every minute of day and night will be filled with loud, colourful and repetitive explosions coming from all directions possible. it's a huge party and chinese spend large amounts of money to get it done properly. and needless to say that since their buying power is growing fast, so is the amount of explosives used.
for such a big party, they need to get ready in advance. which means, right now everyone is buying ammo and filling up their home stocks of explosives to make this new year the loudest of all. and where does one get all this gun powder? basically, everywhere. from the improvised street warehouses occupying to whole sidewalk to the wobbliest of all tables holding piles of it.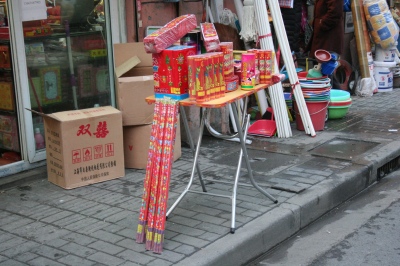 everyone is stocking up to the roof and quantity is the key, not safety. chinese see buying explosives as normal as buying vegetables, and they carry it as such: on the back of their old bikes, falling apart scooters and otherwise in their shopping bags which they hold indifferently while taking a smoke. one would hope nothing serious happens, but always does, and of course, it does so in a china scale.